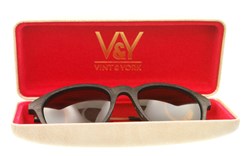 Vint and York was a sponsor of this year's 71st Annual Golden Globes in Los Angeles, CA. In honor of the 71st Annual Golden Globes Awards, nominees and celebrities, including Sandra Bullock, Julia Roberts, Greta Gerwig, Kerry Washington, Zooey Deschanel, Lena Dunham, Jennifer Lawrence, Jared Leto, Andy Samberg, Bradley Cooper, Michael Fassbender, Leonardo Di Caprio, Christian Bale, Kevin Spacey, and Don Cheadle, received Vint and York Prophet.
Vint and York's frames are brightly colored and uniquely shaped. Vint and York eyewear retail for $109.00: which includes the premium prescription lenses and free shipping. Vint and York new sunglasses featuring Zeiss Vision Lenses retail for $129.00. To find out more or to make a purchase, visit
http://www.vintandyork.com
.