Need to renew your state license and ABO/NCLE certification (
see details about the elimination of ABO/NCLE's certification grace period
)? You can with the best value in continuing education - a full-day,
7-credit program from F.E. Enterprises
(click this link).
Pick up the latest ideas in the field - from preserving vision health to new contact lens technologies. The six courses at the Grand Pequot Ballroom,
Foxwoods Resort Casino, Mashantucket, CT
on Sunday, October 20, will help you discover how to fit irregular corneas with contact lenses, provide top-notch patient care by identifying vision health issues, and learn about new technology in spectacle and contact lenses.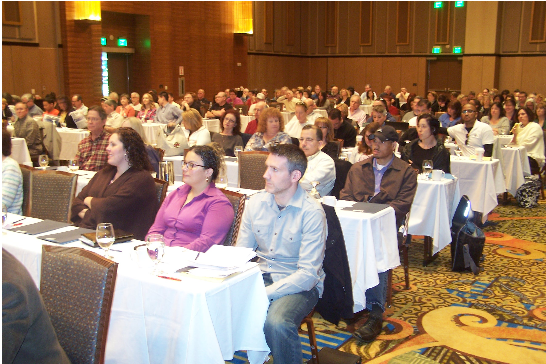 Register for OpticalCEUs Fall 2013 Conference for opticians and eye care providers
. Here are the seminars being presented:
The Miracle of Sight and How to Preserve It Speaker: Deborah Kotob (2 ABO ) 9am-11am
NEW!
Grading Contact Lens Complications Speaker: Linda Conlin (1 NCLE) $65 11am-Noon
Fitting Irregular Corneas Speaker: Joe Forte (1NCLE ) 1 pm-2 pm
NEW!
Beam Me Up! Understanding the Slit Lamp Speaker: Linda Conlin (1 NCLE) 2 pm-3 pm
NEW
Diseases of the Eye Speaker: Joe Forte (1 ABO ) 3pm-4pm
NEW
Augmented Reality Contact Lenses Speaker: Linda Conlin (1 NCLE)4 pm-5pm
Since Conlin founded
OpticalCEUs
in 1999, it has provided opticians with accredited continuing education units. Each year, hundreds of opticians use the earned credits to fulfill their licensing requirements in many states, such as Connecticut, Rhode Island, and Massachusetts, to name only three. Opticians also apply their earned credits to their ABO and NCLE certifications.
Conlin added that in addition to the conference,
OpticalCEUs
provides opticians with a blog designed exclusively for their needs--
Optical News from OpticalCEUs
. The blog provides optical news from around the Web in digest form with links for more information.
For more information about the conference or the blog, send an email to
F.E.Enterprises@OpticalCEU.com
.