"

With Project Glass an early prototype, competitors are pushing to deliver augmented reality glasses before Google makes its move." So starts a

Verge post

from the Consumer Electronics Show

. "

Unlike every other set we've seen, though, the Innovega iOptik system is more than a pair of glasses. Half the system, to be sure, is a pair of the large, slightly goofy frames and lenses we've come to expect. But the core of iOptik is a pair of contact lenses embedded with tiny optical components and a filter. On their own, these behave just like ordinary contacts, and they'll incorporate users' prescriptions when necessary. But add the glasses, and you've got a heads-up display that promises a far wider field of vision than you'd get from a competitor like Vuzix."

Read more.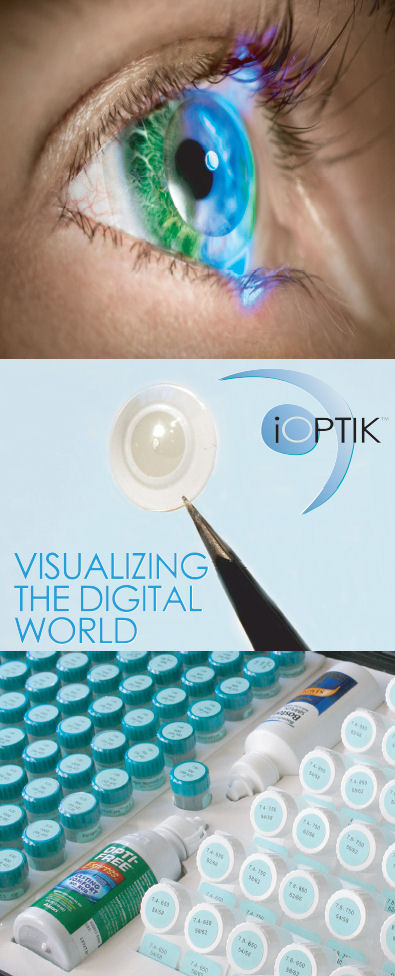 In a separate announcement, the company explained that by eliminating the usual magnifying optics from the eyewear and integrating them into a nano-tech contact lens, Innovega designers have been able to deliver high-performance imagery from compact and stylish eyewear. The Innovega eyewear system is thus comprised of two elements: 1) micro-projectors or flat-panels that are integrated into eyewear and provide a media gateway, and 2) novel iOptik contact lenses that deliver a crisp view of both near-eye rich media and of the environment.
The lenses are based on modern fabrication methods and can be worn in the usual fashion with or without the Innovega eyewear. When the eyewear is worn, any accessible media is instantly available and is overlaid onto or blended with the environment. An interesting benefit of the iOptik lenses is that they include the wearer's prescription and therefore improve their normal view of their real-world surroundings.
The company reports that early adopters may be those with the lowest switching costs - more than one hundred million global consumers who already wear and enjoy contact lenses (as do more than 20% of North American 18 to 34 year-old consumers who already drive demand for mobile and other media devices). Once the unique benefit of iOptik is realized, other market segments will quickly form.
Read more from iOptik.