"NFL players are known to express their individuality. It's harmless fun, usually in the form of eyeblack patters or maybe even a special big-play celebration. However,
Buffalo Bills
defensive end
Mario Williams
took it to another level on Sunday," reports
Fox Sports
. He wore red contact lenses.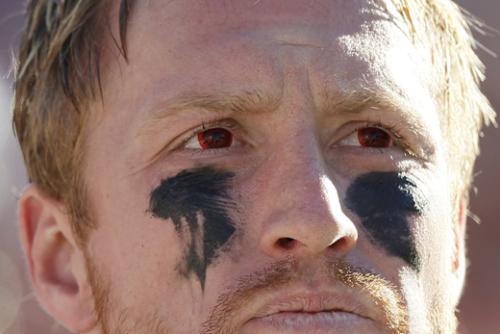 The sports network continued with the following: "That's cool. And freaky. And also not unique. Another helpful soul on social media spotted
Falcons
defender
Kroy Biermann
rocking red lenses as well."
Read more
.
Apparently Williams, Biermann, and the sportswriter overlook the problem of imitation. How many Friday-night players will now run to their nearest convenience store or gas station to buy decorative contact lenses? Each Halloween too many adults and adolescents suffer harm simply because they are not purchasing CLs from doctors.
Speaking of which, "a dozen retailers in the Los Angeles area are facing federal charges for selling illegal contact lenses designed to look like cat's eyes, CBS Los Angeles is
reporting
. Dubbed 'Operation Cat Eyes,' the contact lens crackdown targeted multiple retail outlets–several of which were temporary operations selling Halloween merchandise–that sold the illegal contact lenses. According to KSBY in San Luis Obispo, the illegal cat-eye contacts were contaminated with bacteria that can cause blindness," says
Inquisitr
. "The Food and Drug Administration (FDA)
considers
all contact lenses, even cosmetic or decorative contacts, as prescription medical devices that must be regulated by the FDA. In other words, as far as the FDA is concerned, people can't use decorative cat-eye contacts unless you have a prescription for regular contacts."
Read more
.